Flex Controller (English)
The Flex Controller was built with the sole purpose of bringing the joy of gaming to more people.
While developing the Flex Controller we worked with and asked for the opinion of gamers who have physical disabilities due to Muscular Dystrophy, SMA (Spinal Muscular Atrophy), Cerebral Palsy, and others as well as medical professionals who specialize in Physical Medicine and Rehabilitation to create a truly inclusive product for all gamers. This product was designed and developed under the supervision of Technotool Co., Ltd., who specializes in developing products specifically for the physically handicapped.
We would like to express our gratitude to everyone who assisted with developing this product.
The Flex Controller is designed and sold specifically for those who can't use a standard controller.
Please do not use this product for anything other than it's intended purposes as an accessibility controller.
This will allow more people who need this product to access it.
Sale of the Flex Controller is a limited to Technotool's "at-mall" online store.
Advanced Support Features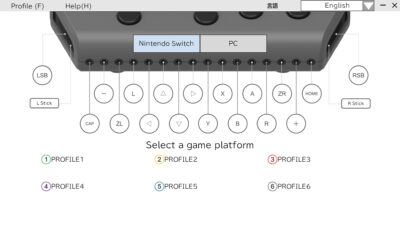 Change Button Assignment
By using the dedicated Flex Controller Settings App, the assigned button functions of the switch and joystick settings can be changed.
Up to 12 profiles can be saved, six for the Nintendo Switch and six for PC.
The Flex Controller Settings App is only compatible with Windows



Line-of-Sight Commands
With the Flex Controller Extension App, games can be played with line-of-sight commands.
A Windows PC, line-of-sight sensor, and video capture unit is required.

Specific Terminology
Assign・・・To change or pick a different function for something (i.e., a button)
Profile・・・Assigned settings that have been saved
Product Specifications
External Dimensions:(W)250mm×(D)65mm×(H)125mm
Weight: 510 g/ 1.1 lb. (approx.)
Access Method:USB Cable
Compatible Operating System:Windows®10 / 8.1
Required System:USB port, internet connection
Only compatible with XInput games and does not support DirectInput.
An internet connection is required to update the Nintendo Switch or install the XInput driver on PC.
Precautions for when using on Nintendo Switch
Please read the enclosed user manual before use.
Please check that your Nintendo Switch is updated to the latest system version before use.
This product does not plug into the Nintendo Switch directly. Please connect it to the Nintendo Switch dock.
This product can only be used in TV Mode and cannot be used in Tabletop Mode or Handheld Mode.
This product does not have the following functions:
Gyro, Accelerometer, HD Rumble, NFC, IR Camera
Precautions for when using on PC
Please read the enclosed user manual before use.